"The Anchorman: The Legend of Ron Burgundy" Comes to Heald Auditorium, Saturday, Sept. 26
Preview – click HERE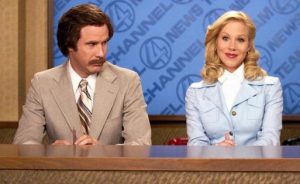 FOLA's next feature film, "Anchorman: The Legend of Ron Burgundy", a satirical comedy, will be screened in Heald Auditorium of Ludlow's Town Hall on Saturday, September 26 at 7 PM.
"Anchorman: The Legend of Ron Burgundy" is a 2004 American comedy film directed by Adam McKay in his directorial debut, starring Will Ferrell. The film is a tongue-in-cheek take on the culture of the 1970s, particularly the new Action News format. It portrays a San Diego TV station where Ferrell's title character clashes with his new female counterpart.
Ron Burgundy is the famous anchorman for a local San Diego television station, fictional KVWN channel 4. He works alongside his friends, whom he had known since childhood, on the news team: lead field reporter Brian Fantana, sportscaster Champ Kind, and meteorologist Brick Tamland. Station director Ed Harken informs the team that they have retained their long-held status as the highest-rated news program in San Diego, leading them to throw a wild party, where Burgundy unsuccessfully attempts to pick up a beautiful blonde woman, Veronica Corningstone. Harken later informs the team that they have been forced to hire Corningstone. After a series of unsuccessful attempts by the team to seduce her, she finally relents and agrees to a "professional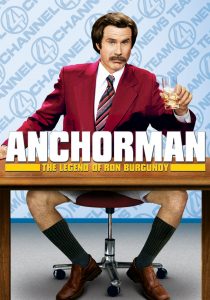 tour" of the city with Ron, culminating in a sexual relationship. Despite agreeing to keep the relationship discreet, Ron announces it on air.
Corningstone is promoted to co-anchor, to the disgust of the team. The co-anchors become fierce rivals off-air while maintaining a phony cordiality on-air. Depressed, the news team decides to buy new suits, but Brick, who was leading the way, gets them lost in a shady part of town. Confronted by main competitor Wes Mantooth and his news team, Burgundy challenges them to a fight. When several other news teams converge onsite, a full-on melee ensues, only to be broken up by police sirens that cause them to flee. Realizing that having a female co-anchor is straining their reputation, Burgundy gets in another heated argument with Veronica, and they get in a physical fight after she offends him about his hair.
The rivalry between the two co-anchors continues, complicated by the impact of the rest of the nightly news staff as well as competition with other TV stations' newscasters fills the remainder of the film. The ending of the film involves a major plot twist that will delight all viewers.
In keeping with town protocol for Covid-19, masks are requested of viewers as well as social distancing. Water will be supplied by United Church of Ludlow. For information, call 802-228-3238 or visit the FOLA web site, www.fola.us.
Aretha Franklin's "Amazing Grace" Featured on Saturday, October 10

On Saturday, October 10 at 7 PM FOLA (Friends of Ludlow Auditorium) will present the marvelous Aretha Franklin in her masterpiece concert, "Amazing Grace".
The 2019 nationwide release, 47 years after it was made, means audiences at last will see the Queen of Soul's transcendent masterpiece – Aretha Franklin in Amazing Grace.
Amazing Grace captivates, says the Smithsonian's Christopher Wilson from the National Museum of American History. It is 90-minutes of "living the genius of Aretha and the passion of the tradition she embraced and represented." (NEON)
In 1970s Detroit, Aretha Franklin's masterpiece Amazing Grace, the best-selling gospel album of all time, chronicles the two-day, live-recording session at the New Temple Missionary Baptist Church in Los Angeles in January 1972.
In 1972, Aretha Franklin was at the top of the music world. She had recorded more than a dozen gold records, more than 20 albums, and had won five Grammys. The world had experienced her amazing voice on classics like "Respect," "Spanish Harlem," "Bridge over Troubled Water," and "Chain of Fools." She was already known as "The Queen of Soul." But early in 1972, she returned to her roots and decided to record a live gospel album, singing the songs she grew up performing in her father's New Bethel Baptist church in Detroit and in the family parlor since she was a small child.
The result of Franklin's return to gospel was legendary at the time. Performing with Rev. James Cleveland, the fabulous choir, Aretha's studio band (Bernard "Pretty" Purdie on drums, guitarist Cornell Dupree and bassist Chuck Rainey), and in front of a live audience that included Mick Jagger and Charlie Watts, who were in Los Angeles finishing an album for the Rolling Stones, the Franklin recording session resulted in a two-album, double platinum, Grammy-winning tour de force.
With new technology, the lost footage was transformed by 2010 into the film Pollack originally intended, but it was still far from finding its way to audiences. So, when Powers announced this year following the August death of Aretha Franklin that the film would finally debut at his DOC NYC festival, I was thrilled. I was also guarded, especially since the announcement was so last minute that Amazing Grace wasn't even included in the festival's printed program. But Franklin's family, following her death, had given consent.
The 97 minute film was captivating, it was a witnessing of Aretha Franklin's musical mastery and the emotion in the audience was palpable, not just because of the years we had to wait for the experience, but because we were living the genius of Aretha and the passion of the tradition she embraced and represented.
This program is free and open to everyone; donations are appreciated. Water will be provided by the United Church of Ludlow. Attendees are requested to wear masks and maintain social distancing. For information call 802-228-3238.
FOLA's Coming Event:
Saturday, October 24 at 7 PM in the Heald Auditorium, Ludlow Town Hall – A Halloween Special Treat
"Abbott and Costello Meet Frankenstein"